Триллеры увлекают зрителей своими захватывающими сюжетами и непредсказуемыми развязками, заставляющими досматривать их до самого конца. Именно это делает "триллер" одним из самых любимых жанров у зрителей и постоянно приносит фильмам наивысшие оценки. Боевики, фильмы ужасов, детективы, криминальные драмы, просто драмы и даже фантастические фильмы - жанровое разнообразие фильмов, которые можно также отнести к триллерам достаточно широк. Предлагаем вам прямо сейчас познакомиться с двадцатью лучшими триллерами 2017 года.
1. Оно / It (2017), 135 мин., США, Канада.
В ролях: Джейден Либерер, Джереми Рэй Тейлор, Софиа Лиллис, Финн Вулфард, Чоузен Джейкобс, Джек Дилан Грейзер, Уайатт Олефф, Билл Скарсгард, Николас Хэмилтон, Джейк Сим и другие.
Режиссер: Андрес Мускетти
Сценаристы: Чейз Палмер, Кэри Фукунага, Гари Доберман
Оператор: Чон Джон-хун
Композитор: Бенджамин Уоллфиш
Продюсеры: Ричард Бренер, Даг Дэвисон, Тоби Эммерих
2. Выстрел в пустоту / Shot Caller (2017), 120 мин., США.
В ролях: Николай Костер-Вальдау, Джон Бернтал, Лэйк Белл, Омари Хардвик, Майкл Лэндис, Джеффри Донован, Бенджамин Брэтт и другие.
Режиссер: Рик Роман Во
Сценарист: Рик Роман Во
Оператор: Дана Гонсалес
Композитор: Антонио Пинто
Продюсеры: Джонатан Кинг, Мишель Литвак, Гари Майкл Уолтерс
3. Прочь / Get Out (2017), 104 мин., США.
В ролях: Дэниэл Калуя, Эллисон Уильямс, Кэтрин Кинер, Брэдли Уитфорд, Калеб Лэндри Джонс, Маркус Хендерсон, Бетти Гэбриел и другие.
Режиссер: Джордан Пил
Сценарист: Джордан Пил
Оператор: Тоби Оливер
Композитор: Майкл Эбелс
Продюсеры: Джейсон Блум, Жанетт Брилл, Marcei A. Brown
4. Джон Уик 2 / John Wick: Chapter Two (2017), 122 мин., США.
В ролях: Киану Ривз, Риккардо Скамарчио, Иэн МакШейн, Руби Роуз, Коммон, Клаудия Джерини, Лэнс Реддик и другие.
Режиссер: Чад Стахелски
Сценарист: Дерек Кольстад
Оператор: Дан Лаустсен
Композиторы: Тайлер Бейтс, Джоэл Дж. Ричард
Продюсеры: Роберт Берначчи, Кевин Скотт Фрайкс, Бэзил Иваник
5. Сплит / Split (2016), 117 мин., США.
В ролях: Джеймс МакЭвой, Аня Тейлор-Джой, Бетти Бакли, Хейли Лу Ричардсон, Джессика Сула, Иззи Коффи, Брэд Уильям Хенке и другие.
Режиссер: М. Найт Шьямалан
Сценарист: М. Найт Шьямалан
Оператор: Майк Гиулакис
Композитор: Уэст Дилан Тордсон
Продюсеры: Марк Бьенсток, Джейсон Блум, Дом Катанцарите
6. Коммивояжер / Forushande (2016), 123 мин., Иран, Франция.
В ролях: Шахаб Хоссейни, Таране Алидости, Бабак Карими, Мина Садати, Фарид Сейджжади Хоссейни, Ширин Ахакаши, Эхтерам Боруман, Марал Бани Адам, Моджтаба Пирзаде, Сам Валипур и другие.
Режиссер: Асгар Фархади
Сценарист: Асгар Фархади
Оператор: Оссейн Джафарьян
Композитор: Саттар Ораки
Продюсеры: Асгар Фархади, Александр Малле-Гай, Оливье Пере
7. Хорошее время / Good Time (2017), 101 мин., США.
В ролях: Роберт Паттинсон, Бен Сэфди, Талия Вебстер, Дженнифер Джейсон Ли, Баркхад Абди, Рон Браунштейн, Питер Верби, Саида Мансур, Глэдис Матон, Роуз Грегорио и другие.
Режиссеры: Бен Сэфди, Джошуа Сэфди
Сценаристы: Рональд Бронштейн, Джошуа Сэфди
Оператор: Шон Прайс Уильямс
Композитор: Дэниэл Лопатин
Продюсеры: Себастьян Беар-МакКлард, Оскар Бойсон, Терри Дугас
8. Золото / Gold (2016), 120 мин., США.
В ролях: Мэттью МакКонахи, Эдгар Рамирес, Брайс Даллас Ховард, Кори Столл, Тоби Кеббелл, Билл Кэмп, Джошуа Харто и другие.
Режиссер: Стивен Гейган
Сценаристы: Патрик Мэссет, Джон Зинмен
Оператор: Роберт Элсвит
Композитор: Дэниэл Пембертон
Продюсеры: Патрик Мэссет, Мэттью МакКонахи, Джон Зинмен
9. Взрывная блондинка / Atomic Blonde (2017), 115 мин., США.
В ролях: Шарлиз Терон, Джеймс МакЭвой, Эдди Марсан, Джон Гудман, Тоби Джонс, Джеймс Фолкнер, Роланд Мюллер, София Бутелла, Билл Скарсгард, Сэм Харгрейв и другие.
Режиссер: Дэвид Литч
Сценаристы: Курт Джонстад, Энтони Джонстон, Сэм Харт
Оператор: Джонатан Села
Композитор: Тайлер Бейтс
Продюсеры: А.Дж. Дикс, Эрик Гиттер, Дэвид Гуиллод
10. Демон внутри / The Autopsy of Jane Doe (2016), 86 мин., Великобритания, США.
В ролях: Брайан Кокс, Эмиль Хирш, Офелия Ловибонд, Майкл МакЭлхаттон, Олуэн Катрин Келли, Джейн Перри, Паркер Сойерс и другие.
Режиссер: Андре Овредал
Сценаристы: Йен Б. Голдберг, Ричард Найнг
Оператор: Роман Осин
Композиторы: Дэнни Бенси, Сондер Юрриаанс
Продюсеры: Рори Аиткен, Фред Бергер, Эрик Гарсия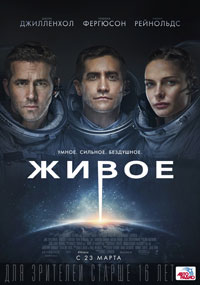 11. Живое / Life (2017), 103 мин., США.
В ролях: Хироюки Санада, Райан Рейнольдс, Ребекка Фергюсон, Джейк Джилленхол, Ольга Дыховичная, Эрион Бакаре, Хесус Дель Орден и другие.
Режиссер: Даниэль Эспиноса
Сценаристы: Ретт Риз, Пол Верник
Оператор: Шеймас МакГарви
Композитор: Йон Экстранд
Продюсеры: Бонни Кертис, Дэвид Эллисон, Дэна Голдберг
12. Преисподняя / Brimstone (2016), 148 мин., Нидерланды, Франция, Германия, Бельгия, Швеция, Великобритания.
В ролях: Дакота Фаннинг, Кит Харингтон, Кэрис ван Хаутен, Гай Пирс, Пол Андерсон, Эмилия Джонс, Карла Юри и другие.
Режиссер: Мартин Кулховен
Сценарист: Мартин Кулховен
Оператор: Рогир Стофферс
Композитор: Джанки Экс-Эл
Продюсеры: Уве Шотт, Эльс Вандеворст, Жан-Баптист Бабин
13. Антропоид / Anthropoid (2016), 120 мин., Чехия, Великобритания, Франция.
В ролях: Джейми Дорнан, Киллиан Мёрфи, Брайан Каспе, Кая Херманек, Шара Арнстейнова, Хана Фрейкова, Шон Махон и другие.
Режиссер: Шон Эллис
Сценаристы: Шон Эллис, Энтони Фревин
Оператор: Шон Эллис
Композитор: Робин Фостер
Продюсеры: Шон Эллис, Мики Лиделл, Пит Шилеймон
14. Проклятие Аннабель: Зарождение зла / Annabelle: Creation (2017), 109 мин., США.
В ролях: Энтони ЛаПалья, Самара Ли, Миранда Отто, Брэд Гринквист, Лулу Уилсон, Талита Бейтман, Стефани Сигман и другие.
Режиссер: Дэвид Ф. Сандберг
Сценарист: Гари Доберман
Оператор: Максим Александр
Композитор: Бенджамин Уоллфиш
Продюсеры: Ричард Бренер, Майкл Клиар, Уолтер Хамада
15. Чужой: Завет / Alien: Covenant (2017), 122 мин., США, Великобритания, Австралия, Новая Зеландия, Канада.
В ролях: Майкл Фассбендер, Кэтрин Уотерстон, Билли Крудап, Дэнни МакБрайд, Демиан Бишир, Кармен Эджого, Джусси Смоллетт и другие.
Режиссер: Ридли Скотт
Сценаристы: Джон Логан, Данте Харпер, Дэн О'Бэннон
Оператор: Дариуш Вольски
Композитор: Джед Курзель
Продюсеры: Дэвид Гайлер, Эми Грин Винс, Уолтер Хилл
16. Счастливого дня смерти / Happy Death Day (2017), 96 мин., США.
В ролях: Джессика Рот, Израэль Бруссар, Руби Модин, Лаура Клифтон, Джейсон Бэйл, Роб Мелло, Рэйчел Мэттьюз, Рэмси Андерсон, Брэйди Льюис, Фи Ву и другие.
Режиссер: Кристофер Лэндон
Сценарист: Скотт Лобделл
Оператор: Тоби Оливер
Композитор: Беар МакКрири
Продюсеры: Джон Балдеччи, Джейсон Блум, Жанетт Брилл
17. Роковое искушение / The Beguiled (2017), 93 мин., США.
В ролях: Колин Фаррелл, Николь Кидман, Кирстен Данст, Эль Фаннинг, Уна Лоуренс, Энгаури Райс, Эддисон Рики и другие.
Режиссер: София Коппола
Сценаристы: Альберт Мальц, Ирен Кэмп, София Коппола
Оператор: Филипп Ле Сурд
Композиторы: Лаура Карпман, Феникс
Продюсеры: Роман Коппола, София Коппола, Юри Хенли
18. Наемник / American Assassin (2017), 112 мин., США.
В ролях: Дилан О'Брайен, Майкл Китон, Санаа Лэтэн, Шива Негар, Тейлор Китч, Дэвид Суше, Навид Негабан, Скотт Эдкинс, Шарлотта Вега, Кристофер Уэбстер и другие.
Режиссер: Майкл Куэста
Сценаристы: Стивен Шифф, Майкл Финч, Эдвард Цвик
Оператор: Энрике Чедьяк
Композитор: Стивен Прайс
Продюсеры: Лоренцо Ди Бонавентура, Эйдан Эллиотт, Пьер Эллуль
19. Дорога чести / Road to Paloma (2014), 91 мин., США.
В ролях: Джейсон Момоа, Ти Александр, Henree Alyse, Лиза Боне, Кеннет Дейл Борилл, Крис Браунинг, Чарли Брамбли, Линден Чайлз, Майкл Хейс, Лэнс Хенриксен и другие.
Режиссер: Джейсон Момоа
Сценаристы: Джонатан Гиршбейн, Джейсон Момоа, Роберт Гомер Моллохан
Оператор: Брайан Мендоза
Композиторы: Охад Беншетри, Джастин Смолл
Продюсеры: Джейсон Момоа, Чарли Брамбли, Эрик Ласисте
20. Двуличный любовник / L'amant double (2017), 110 мин., Франция, Бельгия.
В ролях: Марина Вакт, Жереми Ренье, Жаклин Биссет, Мириам Буайе, Доминик Реймон, Фанни Сэйдж, Жан-Эдуард Бодзяк, Антуан Де ла Мориньер, Жан-Поль Мюэль, Кейсли Готье и другие.
Режиссер: Франсуа Озон
Сценаристы: Франсуа Озон, Филипп Пьяццо, Джойс Кэрол Оутс
Оператор: Мануэль Дакоссе
Композитор: Филипп Ромби
Продюсеры: Эрик Альтмайер, Николас Альтмайер